More than just a class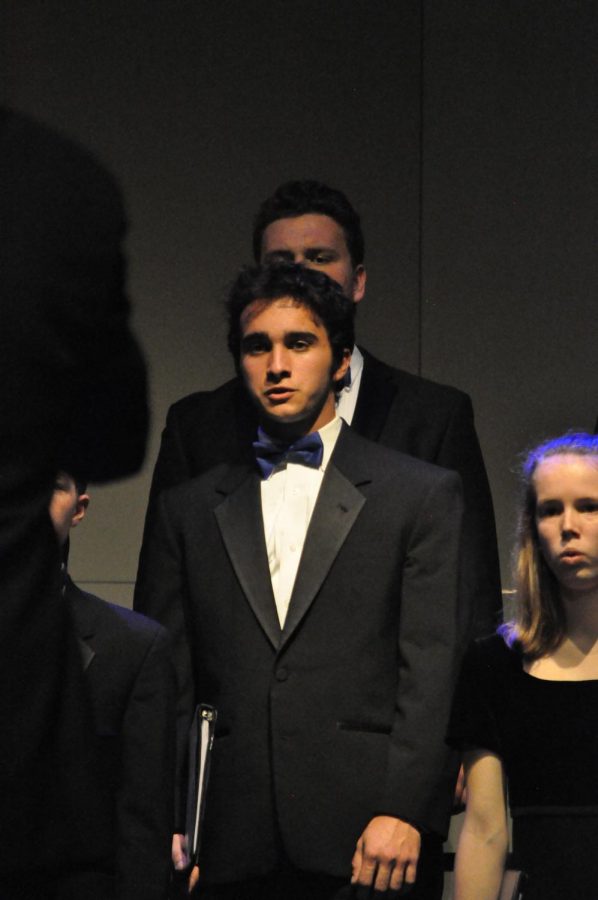 It is the start of another week here at Highlands. Sometimes, the days feel to drag on forever and the weekend is an unreachable dream. However, there is always one class that breaks up all of the dreariness of the rest, bringing a little bit of pep back in our step, giving the student a reason to go back the next day and for Senior Jack Hoffpauir, that class is Chamber Choir.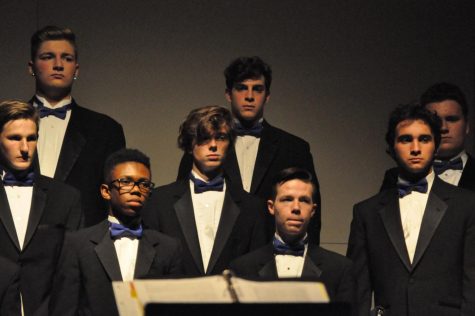 Since freshman year, Hoffpauir has climbed through the program from Chorale to Chamber Choir and has now become the Bass sectional leader as well as the Chamber choir representative. This position is appointed by the choir to keep balance in the group and make sure that everyone is on the same page.
Hoffpauir said, "If a choir member has a problem or question and they don't want to or aren't able to speak to Mr. Young or our president and vice president they could go to me for help."
Hoffpauir has been a part of the Highlands Choral classes since his eighth grade year and he wasn't sure at first if he was going to continue singing at the high school level, but when he first met the high school choir teacher, Mr. Jacob Young, he knew that he would be singing for all four years.
Hoffpauir said, "Not only does he care about his student's well-being, he cares about our success. We mess around in choir a lot–some may say too much– but he is always there to keep us in check and focused on our goal to deliver well-sung music because that's what Chamber Choir does."
Senior Aidan Shannon, is happy that Jack stayed in the program for as long as he has and says that they have become stronger friends due to Chamber Choir. He said, "Jack has always had a good ear for music and has had a lot of experience with the musical arts in general so he brings an expertise that allows our choir to be better by improving those around him."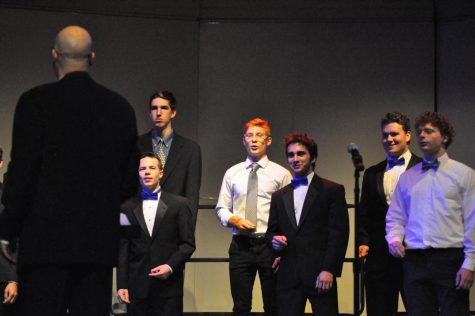 Hoffpauir has also started the Men's choir which is a program specifically designed to appreciate and develop the voices of men at Highlands who want to sing but don't have time to fit it in their schedule during the school day. Shannon said, "It [Men's Choir] is so fun. Jack and I are close and we both share a similar love for music so it's always a good time at men's choir."
In fact, even though Hoffpauir started the thought of the Men's Choir with his best friend Shannon, he says that Young is the reason that the program is going so well. He said, "Mr. Young is the one who should be credited for the start of our men's choir. For guys like my good friend and fellow choir member Aidan Shannon and I, men's choir has been in our minds since our 8th-grade year. It was Mr. Young's vision to bring in guys from all different backgrounds that brought it to Highlands."
He accredits his love for singing and the choir program as a whole to Young. Hoffpauir said, "I think it goes without saying that Mr. Young is a great guy. Some of my best memories of high school have happened during class or at outside events/gatherings and I credit a lot of that to him."
Young says that Hoffpauir's demeanor during class shows how much he cares about the program. He said, "Jack is usually pretty quiet during class but his demeanor shows that he cares considerably about the music as he's constantly helping those around him. He cares tremendously and has a huge influence on those around him because of his dedication to the group – something I find extremely awesome."
Hoffpauir takes it upon himself to hype up the choir during practices as well as before concerts. He wants everyone to have just as great of a time as he has while singing.
Senior and Vice President of the choir program Maggie Seibert said, "On the day we did sectionals, Jack made a chant for the choir program to get everyone quiet. He said 'When I say chamber, you say choir.' The class gets pretty hyped when he does it, and it adds a lot of fun to the class."
Even though they won't be singing Hoffpauir's favorite song, Betelehemu, he was especially excited to sing in the choir concert on Monday, October, 16th.
He said, "this is the most excited I've ever been for our first concert. This is my 3rd year of taking Chamber Choir and in years past it has seemed like our group hadn't quite gelled yet leading up to our October concert. I really believe this year is different. We have that unity that we have always needed to succeed, right off the bat. Our group will go out and deliver something great for this concert because every section is solid."
Hoffpauir also wants to make sure that everyone knows that talent just doesn't come naturally and your singing voice takes time to develop as you age. He knows that even he wasn't the best when he started in the program, and people shouldn't be intimidated just because they aren't the best.
He states, " If someone were to compare my voice now to where I was coming into high school you would probably think I was a different person. It doesn't matter where you start, all three of our choirs are fantastic. Don't be afraid to jump in because you don't think your good enough or are embarrassed.  I would say that Mr. Young is a big believer in just putting yourself out there with confidence and whatever comes out–good or bad–can be fixed and altered. Everyone can learn how to sing."