Meet the Class of 2020 Officers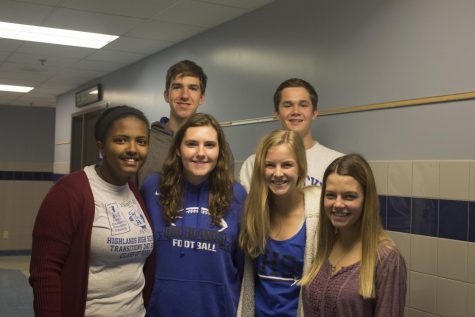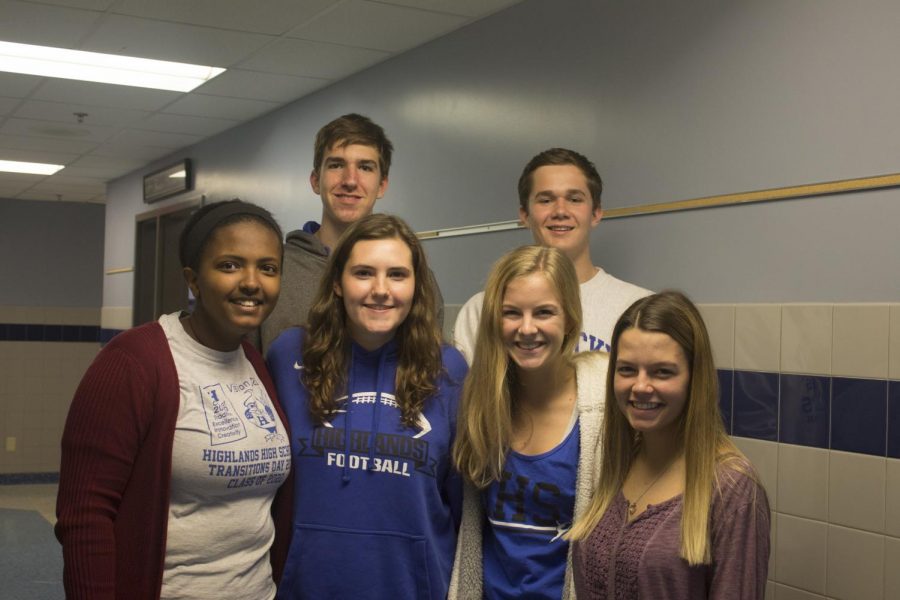 After months of campaign posters plastered on every wall, the day finally came for students from the Class of 2020 to find out who would be representing them.
On September 21st, six juniors heard their names over the announcements, proclaiming their victory.
The person at the top in the chain of command is David Herfel. Walking the halls during these last two months and even now, a red Trust Me, I'm Dave shirt is guaranteed to be spotted in the sea of people.
But he did not just run for fun.
"I find myself to be very close with this class and I felt like I could represent the class best," said Herfel. With the election over, he is looking ahead; specifically to changes to the Ozone.
While the Ozone has been enthusiastic this year, Herfel wants to make it even better next year.
In order to get more students involved, Herfel plans to offer doughnuts and a feature on the big screen to whatever grade is most in theme during a home football game.
And Herfel is there on the sidelines during games, pumping up the Ozone, along with other members of the Varsity cheer team. Besides cheer, he is also involved in the National Math Honor Society and Boys Swim Team.
In the end, Herfel is ready to lead his class.
"I can give a bunch of speeches but the most important thing I want juniors to understand is that we care for them and want to plan the best events we can."
While Hiren Lemma jokes that her main role is "heavy emphasis on vice," she would not have it any other way.
For Lemma, becoming vice president has given her an opportunity to directly influence how the rest of her and her classmates' high school experience continues. Every event for their Senior year, such as prom and senior week themes, must now be approved by her and her fellow officers.
"I just really wanted to have a role in my student government and help plan events important to my class and the school as a whole," said Lemma.
Vice president can now be added to the extensive list of activities Lemma is involved in, such as a leader in the FTIS Big Buddies Little Buddies program, treasurer for the National Math Honor Society, and vice president of the Tri-M Music Honor Society.
Despite her schedule, Lemma said she is ready to "help the other officers with anything they need and offer assistance anywhere it's needed."
Caroline Buecker will soon be seen recording everything that is said or discussed during class officer meetings. She knew going into the campaign that the secretary was the position she wanted.
The main role of secretary is organizing and taking notes, which are coincidently two things Buecker enjoys doing.
"I knew for sure that I wanted to help represent our Junior class somehow and that secretary was the only position right for me," said Buecker.
Just like Lemma, Buecker is also involved heavily in extracurricular activities. Varsity Dance Team member, President of the after-school program She Became, member of the FCCLA, and Art Club fills up Buecker's schedule quickly as one can imagine.
But that will not stop her from "making sure everything is well thought out for prom and ideas are considered for not only juniors but also other students."
The guy "pretty ok with numbers" may have joked around in his campaign slogan, but now as treasurer, Austin Hyder is ready to get to work.
Hyder's main role is to keep track of class financials, but the other aspect of his duty is to collaborate with others to plan events such as prom.
"I really do like numbers so I'm going to try my hardest to make no mistakes in the financing," said Hyder.
He hopes his experiences from Men's Choir, National Math Honor Society, Track, and Cross Country will allow him to easily communicate with not only his fellow officers but also the rest of his class.
Overall, Hyder is focused on two things this year, "crunching the numbers and most importantly, throwing the best prom ever seen."
As class representatives, Nevaeh Votel and Megan Farney have one main responsibility: communicate the thoughts and feelings of the class.
Going into the campaign, Votel already had her mind set on this. Now as one of the two people chosen to represent the class, Votel's goal is still the same.
"I want to find out what they want or need and successfully communicate that to the other officers in order to see what's best for everyone," said Votel.
An announcer at football games, member of the FTIS Big Buddies Little Buddies program, and JV volleyball player keeps Votel up-to-date in many activities her fellow classmates are also in.
Overall, Votel holds true to her goal saying "I just want to be a good illustration and representation for and to my class."
As the other class representative, Farney saw an opportunity when campaigning, one that would allow her classmates to be heard. With several of her friends running for other things, Farney knew that this was her chance.
"I decided to run for class rep because I thought it would be a great chance for me to speak on behalf of my classmates and make a difference at Highlands," said Farney.
Involved in both golf and softball, Farney is kept busy in the fall and spring but still plans on doing the most for her class.
"While I don't have any specific changes in mind; my goal will always stay the same; make the class feel heard."
Being a class officer is an experience few can admit to doing because it takes a large amount of dedication and hard work to successfully fulfill the many duties they have.
These six-people put their classmates first in their busy schedules for one reason; to make someone's high school experience better.