Welcome to the nest: HHS welcomes new art teacher Mrs. Beiting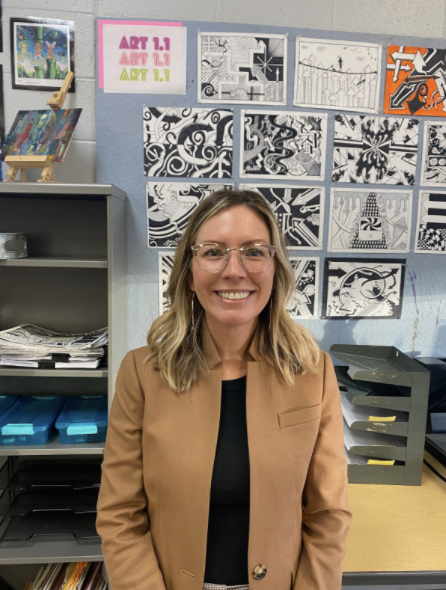 Highlands High School has welcomed multiple new teachers into the nest this year. Stephanie Beiting, Highlands' new art teacher is one of them. Beiting not only teaches art but also teaches photography. Her room is located in room 217 of the high school. 
She transferred from her previous school located in Tennessee called Hardin Valley. She previously taught in Germany, Colorado, and Ohio. 
Beiting said, "When I applied to teach at Highlands, I was looking to teach high school specifically. I am very excited to work with kids who are in such an important stage of development and decision-making for their futures."
 Many of Beiting's students enjoy her teaching style and having her as a teacher. Senior Abi Pate says "I like this year's Photo class a lot more in some places, she gives me a lot of freedom. Since she is new she is learning with me, so it's like a different experience."
Her colleagues also enjoy working with her and collaborating on projects such as Art club and teaching Art 1 and 2. She said, "I am excited to work with our entire staff, especially Mr. Eckerle. I am grateful for the opportunity to grow our art department and lead our art club with him. He is awesome!"
HHS has much to offer when it comes to its Art Class. Both Mr. Eckerle and Mrs. Beiting lead the HHS Art Club. The Art Club trips to The Carmel Manor Senior home during the winter to paint and decorate the windows for the holidays.
Students and staff of the whole school and community look forward to what projects HHS art will complete this following school year.
Leave a Comment