Western Kentucky tornadoes: Impact felt at FTIS
Late last Friday, people in Western Kentucky had their lives torn apart by vicious tornadoes. 
The tornado's path, stretching over 200 miles, created the worst destruction by a natural disaster in the history of the state.  
According to CNN, in the small town of Dawson Springs, about 75% of the community was wiped out.
The death toll in Kentucky alone is at least 80 and is expected to exceed 100. 
According to CNN's report, President Joe Biden approved a disaster declaration for Kentucky on Sunday night. This allows low-cost loans to be put forward towards new housing and repairs in the affected areas that the tornado hit.
At least 18 counties suffered damage from the rocky storms. The victims range from 5 months to 86 years according to Governor Andy Beshear. Six were juveniles and 18 of these victims still remain unknown. 
According to USA Today, more than 20,000 people in Southwestern Kentucky remain without power as the state tries to recover from the tornadoes that hit. Along with this, more than 1,000 properties were destroyed. 
A direct impact was felt at Highlands High School. 
Physics and Chemistry Teacher Robin Kemp grew up in Cuba, Kentucky right outside of Mayfield, Kentucky. Cuba was very rural before the tornadoes hit. Mayfield was the central gathering place for the citizens of Cuba.  Mayfield was one of the hardest hit areas by the tornado's path. 
"It was just numbing. You experience a sense of shock trying to wrap your mind around how everything was fine and then everything was gone. [I am] very thankful that there were no personal injuries to my family, [although] it changes your perspective about what is really important. Material things don't matter, it is the safety of your loved ones," said Kemp.
The Fort Thomas community has acted quickly in support of the victims in Western Kentucky.
Junior Grace Shuley started a GoFundMe for the tornado victims. The link for the GoFundMe is Mayfield Disaster Relief Fund.
"I had nothing to give this Christmas season and I just wanted to give back."
The GoFundMe, in just a few days, has raised over $5,000.
Not only are individual HHS students helping, but the Fort Thomas Independent Schools District is directly helping relief efforts. 
Highlands High School is asking for water or new winter coats, while Highlands Middle School is asking for toiletries/personal care items or games/toys. Robert D. Johnson Elementary School is asking for baby supplies or socks, Samuel Woodfill Elementary School is asking for new towels/wash clothes or disinfectant wipes, and Ruth Moyer Elementary School is asking for new blankets or water.
Anyone is able to donate these supplies, no matter the school that they are affiliated with or are currently going to.  These will be accepted at the respective schools by Friday, December 17. 
Kemp will spend her Winter Break volunteering and passing out water to the tornado victims. The emotional and mental impact on Kemp has been tremendous.
"It was just destruction and devastation but at the same time gratitude for the people we still have," said Kemp.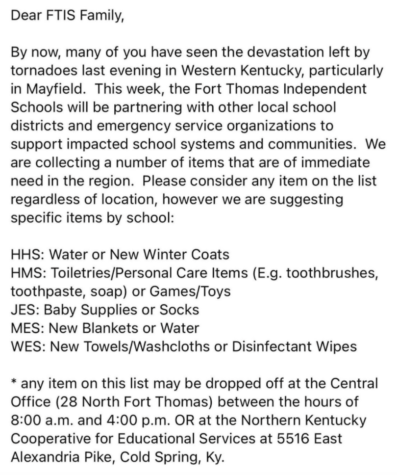 Leave a Comment