Welcoming new teachers to the nest
     The sound of the bell ringing, signaling the beginning of the new school year. The strong scent of cleaning supplies sweeps through the air as bodies walk through the doors. This year at Highlands High School, students are fortunate enough to be able to go back to school in person, with that comes meeting new faces, not just student-wise but teachers too. With a total of five new teachers at Highlands this 2021-2022 school year, there's much to look forward to. 
     Special Education Teacher Hayden Sphire
     Hayden Sphire is one of the new teachers here at Highlands High School. Co-teaching in Math as well as Government, His father, Football Coach, and Counselor Bob Sphire brought Hayden along when he was offered t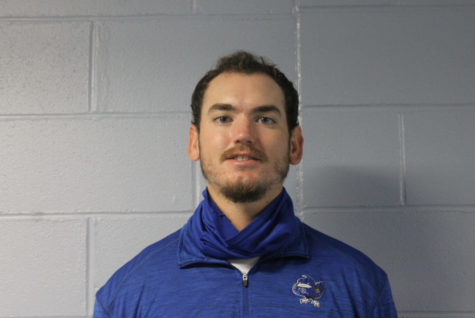 he job of the head coach to be the offensive coordinator.
     Hayden played football as a high school student, kicking off his love for the game and dream to be a head coach in college football, and today he enjoys working with his students, helping them to be better and more independent in their lives. 
     Sphire commented on his method of teaching. 
     "I'm laid back, I like students to be as independent as possible. I think if we're gonna be here for seven hours we should do it in a fun way and not dread coming to school." 
     Before coming to Highlands, he studied and played football at Murray State University and then later graduated from the University of Georgia, then following he began his career as a coach and teacher at Camden County High School in Kingsland, Georgia. Now, he is settling into the nest here at Highlands. 
     Football Coach and Counselor Bob Sphire
     Bob Sphire, a new teacher at Highlands, is coming up on his 33rd year of teaching Before Sphire came to the high school, he was teaching in Georgia as a physical education teacher in the weight rooms. Before that, he worked back in Kentucky as a guidance counselor.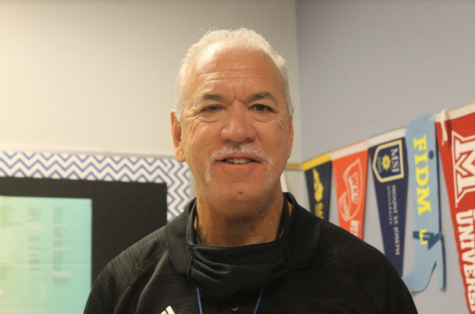 Throughout the entirety of his teaching career, Sphire coached football, so after getting the call to be the new football coach, he was excited to go back to Kentucky, although he had a few doubts about the job. Even so, having his previous player as well as Highlands's current Athletic Director Wes Cadwell, was a big part of his persuasion to take the coaching position.
     Sphire stated his reason for wanting to come back to Kentucky to teach.
     "I was excited to go back to Kentucky, my wife and I both have family here, it's an awesome community." 
     Not only is he still coaching, but Sphire is involved in the guidance department with the work-
based learning program. Which means he helps students connect job internships and opportunities in the area. 
     Besides coaching football, he enjoys reading on the weekends. Although he doesn't have a particular favorite topic, Sphire is fond of the author Jim Harrison who wrote The Road Home, Dalva, and Wolf: A False Memoir. 
     Choral Director Joe Rivers
     Joe Rivers is our new choir teacher this year here at Highlands High school, although he isn't as new to Highlands as we all thought. After being a student-teacher here and working as the music director for the past six summers of the CAST productions, he is now coming to Highlands for a full-time job. Rivers teaches more than just regular choir, as he teaches AP music theory, along with co-teaching with Beth Rowland for the eighth-grade choir.
     Rivers has always had an interest in music, as he was in the band during his childhood. Initially, he wanted to major in computer science but quickly changed to music education after being inspired by his high school chorus teacher.
He was always inspired by a quote his teacher would use, "When you stop getting better, you stop getting good."
Today Rivers lives by it. 
     But he isn't just a teacher. Rivers is also a professional musician. He's recorded four to five CDs of choral music and occasionally works as a church musician, along with teaching private singing lessons in the past.
     Rivers commented on the modifications he wants to make happen in the music department. He would like to make the choir appear different from in the past and by adding more theatrical components to the concerts. Making the audience not just sit there and listen, but have the nice lighting and setting on stage to compliment the students singing. 
     Outside of school and music, Rivers enjoys taking his dog, Peach, on hikes in the woods with his wife, he also has a cat that he named Kitty whom he adores. 
     Special Education Collaborative Teacher Jessica Gross
     Jessica Gross, one of the five new teachers this year at HHS is coming after a two-year break with her children as a full-time mom. With a total of thirteen years as a teacher, Gross primarily works in the English departm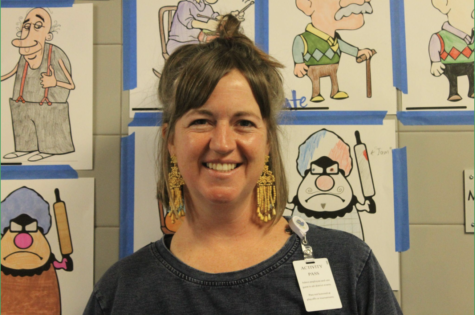 ent and is currently collaborating with the special ed department. 
     Working with struggling students and helping them to realize that they can do amazing things are some of Gross' favorite parts of teaching. 
     Gross discussed how the long-held reputation of Highlands continues.
     "It's a great place, it has a long tradition of awesomeness and I wanted to be a part of it."
     From a young age, Gross realized she loved to help people. When she was in college, she originally had an undergraduate in political science then decided she didn't want to go to law school and ended up getting a master's degree in education. 
     As previously stated, Gross is coming back from a two-year break as a full-time mom. As fun and exciting as that was, she's very happy and ready to be back in a classroom teaching. Being here day-to-day is a thing all teachers have to do, and Gross was ready to commit once again. Outside of school, Gross loves going to concerts, working in her yard, and of course, playing with her kids.
     The Hilltopper also welcomes new Math Teacher Stacey Behrensmeyer to the "Nest."
Leave a Comment