Bluebird Brew Café makes comeback amidst COVID-19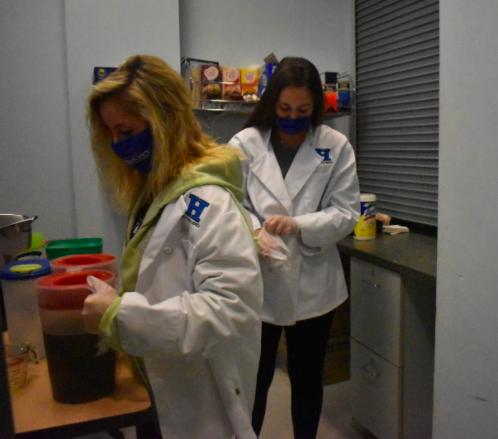 The strong smell of coffee fills the halls, the thundering of the trolley on its way to deliver orders. Students excitedly wait in class to get their drink. 
     Things have certainly been different since COVID-19 hit, and the Bluebird Brew Café is no exception. As classes and lunchrooms changed, so did the café.
     Special Education teacher Shelly Hoffstetter explained the changes in the Bluebird Brew Café, saying, "Things have been changing a lot since COVID[-19] hit. A lot of the modifications have been small, but they have been really helpful, and we intend to keep them through the coming years."
      The café staff has been working hard to figure out a way to solve the never-ending question, "How do we keep everyone safe?" 
     In order to not drastically change how the café runs but still follow COVID-19 guidelines, the staff came up with some clever solutions.
      Special Education Teacher Sue Beiting elaborated on some of the changes.
     "Two of the biggest changes have been not being able to come up to get your drink, and instead of ordering in person, you must order in the app. Another way to keep our staff safe was chef coats. Instead of aprons, we thought this would be a little more sanitary and professional."
      Business teacher Elise Carter, who founded the Bluebird Brew Café, has been a big help in finding solutions to many issues COVID-19 has caused. Carter collaborated with the Special Education Department to give the students some real-world experience for when they graduate from Highlands.
      Carter said, "I believe this is our [fourth] year doing the café and I'm impressed with how far we've come. It helps the students gain actual job practice and how it works. I thought of the idea when I was visiting a school in Chicago and saw they had a café as well. Immediately I knew that was an amazing idea."
     While Special Education students deliver the drinks, seniors stay behind and make the orders, working in small groups each bell. Senior Kayla Bolling gave her take on the job. 
     "It's truly a fun and really helpful experience because I'm in the entrepreneurship path at Launch. I was kind of nervous at first because I didn't know what to expect nor how to make coffee, but it's good for building teamwork and now I know how to handle orders and customers."
      With the shop running almost year-round, the café has some seasonal favorites to shake things up. For fall, they have the pumpkin spice latte. To bring some cheer for the winter months, the peppermint latte. Giving the students a small break during the day to enjoy a nice cup of joe or an ice-cold lemonade, the school is happy to have the little café here at Highlands. 
     Another senior, Emma Coulter, has enjoyed being involved in the café, saying, "I really like working at the cafe, I've had a lot of laughs and great memories. I loved getting to know the girls I work with and seeing the smiles when we deliver the drinks."
Leave a Comment