Curing quarantine boredom: What's up with Netflix?
When it comes to downtime, there is always one place you can always go to defeat boredom: Netflix. The history of Netflix starts back in the year of 1997 when it was co-founded by Marc Randolph and Reed Hastings. Originally, Netflix opened purely as a website-based movie rental service and allowed people to rent DVDs online. Gradually, Netflix's business grew and in 2007 Netflix changed some of their options involving internet access.
According to Britannica, "Netflix began offering subscribers the option to stream some of its movies and television shows directly to their homes through the Internet."
As subscriptions to their new streaming service became more popular, Netflix started to partner with various consumer products and continued to build their business. By 2016 its streaming service was available in more than 190 countries and territories. Furthermore, the most important part of the new and improved streaming service of Netflix was customer satisfaction.
After recently taking a student-based poll from Highlands students about the most trendy Netflix shows, the results show how much Netflix has progressed throughout the years.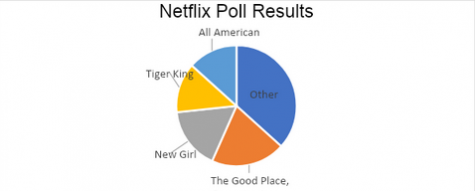 As seen above, one of the more popular Netflix shows was New Girl, Tiger King, and All American. One of the leading shows from this poll was Tiger King, a trendy new show that follows the life of a man who calls himself Joe Exotic. Exotic owns over 200 big cats on his private zoo in Oklahoma, but he is also accused of being involved in a murder-for-hire plot. 
This is a 2020 true-crime documentary television series and Netflix's most popular TV series in the United States. These new shows that are favorable on Netflix prove the successes that have been brought to this $20 billion company. For that reason, although this growing company started off with a gradual climb, Netflix has grown to become the world's leading internet entertainment platform.
Leave a Comment