Boys and girls basketball programs split in Regional tournament over weekend – Boys to Sweet 16
March 29, 2021
Boys take on Conner High School and end with thrilling outcome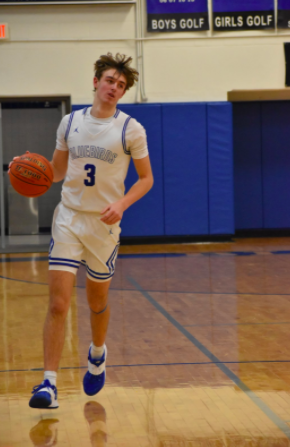 On Friday night, the boys varsity basketball team played the Conner Cougars, winning 77-67. 
     After the first quarter, the Birds had a good head start against the Cougars with a score of 12-11 and were able to maintain the lead throughout the whole game.
     The team was led by senior Sam Vinson with 21 points, nine rebounds, and five assists, senior Luke Muller with four three pointers, junior Zach Barth with four three pointers and seven assists, junior Oliver Harris with nine points, and sophomore Will Herald with four three pointers.
     Coach Kevin Listerman said, "We played very well and were unselfish. We did not shoot it well in the first half but did in the second half and that was the difference"
     The Birds will play Muhlenberg County at Rupp Arena on Thursday at 11:00 a.m. in the first game of the KHSAA Boys Sweet Sixteen tournament.
Leave a Comment
Girls take on Dixie Heights, end with unfortunate defeat
     On Saturday night, the girls varsity basketball team played Dixie Heights Colonels, but had an unfortunate loss, ending the game 54-42. 
     The team was led by seniors Emma Riccobene with 15 points and Kelsey Listerman with 13 points. The Birds were in the lead for part of the game, but when the Colonels made a three-pointer, they stole the lead and held onto it for the rest of the game.
     Coach Jamie Richey said, "I was very pleased with our team. This group of girls gave it their all every single game and left it out on the court. Unfortunately, not all of our shots went in." 
     This year, the Ladybirds won 20 games and the program's seventh consecutive District Title.  
     Overall, this past game against the Colonels was a tough match for the Birds. We wish them the best of luck next season.
Leave a Comment