An exhibition of nerds: Cincinnati Comic Expo leaves town
Over the last weekend, Cincinnati Comic Expo (CCE) made its way to the Duke Energy Center in downtown Cincinnati. 
CCE had a ton to offer to its guests. From amazing panels to a variety of shopping options. 
Every year, CCE has a variety of celebrities that attend to do photo opportunities, autographs, and so much more. Some of the well-known celebrities that made an appearance this year were Christopher Lloyd who played Doctor Brown in the Back to the Future series. Brandon Routh was also there, well known for his roles as Superman and The Atom in 'DC Legends of Tomorrow.
As Cincinnati Comic Expo (CCE) wraps up, I as well as many other students reflect on our experiences with the convention. 
This year, during my trip to CCE, I and my con group dressed up and went to our second CCE ever. Knowing what stakes this year had to show up last year was outstanding.
With an event like CCE, I and my friends like to make it a big event similar to a holiday. We all go over to my friend Lynae's house and stay the weekend as we make the finishing touches to our costumes. Then we get up early, roughly two hours before the con, do our make-up, and head out.
At the con, I managed to limit my spending money with the knowledge of the same booths from other cons I attend annually. I only spent a rough 65$ on merchandise, and 40$ on food. With that 65$ I purchased two different pieces of art of my favorite Mortal Kombat character, Dvorah (Big  one  by  ShotellArts  and  smaller  one  by  HannahHolmesArt.)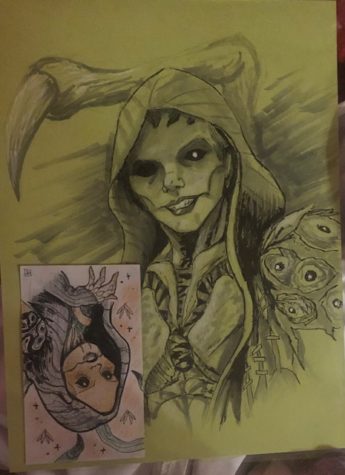 Besides myself, many other Highlands students attended CCE this year.
Juniors Reagan McPhedran and Lily Liesing attended, cosplaying as Obi-Wan Kenobi and Anakin Skywalker from the series Star Wars.
"I liked CCE, I've been attending since 6th grade. CCE is something really important to me," said McPhedran.
Over those six years of attending CCE, McPhedran commented on the changes she noticed compared to the last few years.
"I haven't been since before COVID-19, so seeing how people genuinely still take precautions gives the whole place a different vibe."
CCE did not require masks this year compared to when they did last year.
With big cons such as CCE, overspending is something that happens. Roughly 30-40$ per item on average.
Junior Lily Liesing comments on the Exhibition Hall (The room with all the shops.)
"There were a lot of cute stuffed animals. I bought quite a few pins for my backpack. I got a bunch of nicknacks and legos."
As CCE wraps, students settle back in from the exciting weekend continuing their normal life. As they each look forward to next year, CCE will come quicker than they expect.
Leave a Comment