Johnson Elementary hosts Race to the Finish Color Run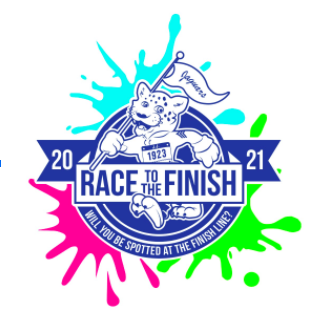 On a sunny Spring morning, friends, family, and neighborly new faces casually chat as they wait. A sea of bright white t-shirts appears, blinding curious bystanders. 
     Once the whistle blows, the crowd picks up pace as they begin their trek along the scenic journey, preparing to be doused head to toe in colored powder. Throughout the run,  clothes are transformed from stark white to a melange of bright and colorful hues. 
     All parents, students, and community members are invited to participate in the first-ever 2.021K "Race to the Finish" Color Run hosted in Tower Park on May 8, 2021! The Fort Thomas Education Foundation and the Johnson PTO are excited to announce a brand new event to help raise money for the new Johnson school building.
     "The goal of the event is to raise funds for Johnson Elementary for items they need at the new school," commented Julie Gwisdalla, Director of Marketing and Communications of the Fort Thomas Education Foundation. 
     To sign up for the run, community members can visit www.johnsonpto.org for instructions. Additionally, a business or family could sponsor this event to further support the cause. For more information regarding sponsorship, please contact Sponsorship Chair Karalee Massie at [email protected] 
     This event will offer a day of colorful fun for the whole family as support for the community. The run will officially start bright and early at 8:00 a.m. in Tower Park. However, to ensure safety and social distancing, there will be staggered start times every 30 minutes. Single registrations for the event will be sold for $15 while family registration will be $50. Upon checking in at the run, all participants will receive an official race t-shirt as well as a "swag bag" after crossing the finish line. Participants are then invited to stay for food and entertainment after completing the race to celebrate the community.
     "We know this will be a memorable event," exclaimed Massie.
Leave a Comment